About the BRO
The governance structure for the implementation, monitoring and reporting of the Fiscal Strategy Panel's recommendations has been established in accordance with the governance structure proposed in the final report.
A chief executive level Fiscal Repair Standing Committee has been established to provide strategic direction in implementing NT Government's response to the recommendations. The Fiscal Repair Standing Committee reports to the Budget Review Subcommittee of Cabinet.
Governance structure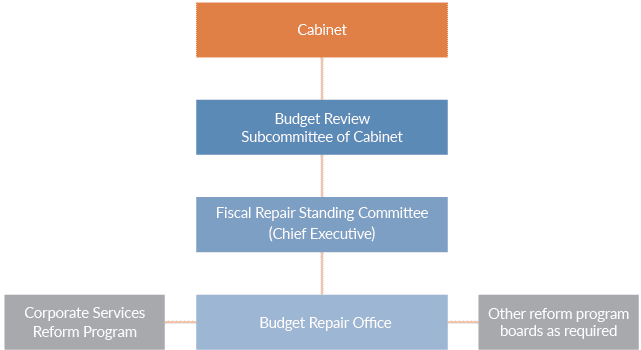 The BRO has been established within the Financial Management Group (FMG) in the Department of Treasury and Finance. The BRO is responsible for:
coordinating the development of implementation plans for each reform as required, including monitoring and evaluating plans for the more complex reforms
reporting and secretariat functions for the Fiscal Repair Standing Committee
providing quarterly progress reports to the Fiscal Repair Standing Committee
preparing annual progress reports
coordinating reform evaluations post implementation.
Any queries relating to the Budget Repair Office can be directed to DTF.BudgetRepair@nt.gov.au
Last updated: 05 May 2021
Share this page: